A Leader in the Analog and Digital Imaging Industries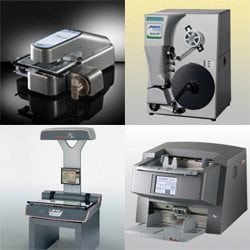 We are to our knowledge, the only – blend of manufacturer, distributor and service bureau. This dynamic combination allows GGS and Crowley to understand the complexities of archival preservation and records management from every angle, providing a competitive and technological edge that cannot be found elsewhere.
We can offer a complete range of digital and analog solutions for imaging technology and film processing including:
Commercial Imaging Products
We provide a complete array of manufactured and distributed equipment, software and supplies to meet all production-level, back-office and patron imaging needs. Products include: microfilm, microfiche, document, aperture card and book and large-format scanners; microfilm processors, writers and duplicators; and imaging system consulting services for advanced document capture and conversion requirements.
Image Capture Digitization and Processing Services
Providing leading-edge microform and document conversion and reformatting solutions to libraries, archives, publishers, government agencies and commercial clients. Digital imaging capture and conversion services include:
aperture card scanning – A through E
archive writing (film output from digital) to 16mm, 35mm and bi-tonal
archival preservation microfilming
bound-book scanning – color, bi-tonal and grayscale
data field indexing
digital document imaging
document and image reformatting
large-format scanning – newspapers, graphics, maps and charts
microfilm and microfiche digitizing
microfilm duplicating
photographic media digitizing – reflective photo prints and art, filmstrips, plates, slides, color and b&w negatives and color transparencies
sales and support of hardware and software solutions for advanced document conversion requirements
For general inquiries and suggestions, email info@ggs-atl.com